Esquire is a world-renowned American men's magazine. Established in 1933 in the USA by Hearst Communications, it also has more than 20 international editions. Esquire began its publication in Turkey in 1993. On its 30th anniversary, the magazine decided to refresh its visual identity, and our collaboration started.
Esquire's design language varies in each country based on its requirements. For our new visual identity, we identified two key points: reflecting Turkey's culture through multi-layered elements (a multi-voiced/dynamic page structure and a cover design that turns towards the spine, carrying a secondary message) and a typography language that is local and yet global, suitable for its audience. Fatih Hardal's fonts, FH Ronaldson Text and FH 1089, were the most fitting candidates for this typography brief. Despite appearing as a classic serif font that prioritizes readability at first glance, FH Ronaldson achieves clarity with its sharpened and distinctive structure while also exuding sophistication. FH 1089 enhances the magazine's dynamism with its contrasting framework and calligraphy-inspired asymmetric cuts in prominent texts such as headlines and quotes. Both fonts represent an intellectual elegance and effortless style, just like their target audience. For the cover design, we extended the spine to the front as a secondary frame, creating a limited but adequate space for each issue's subsidiary message. 
The cover concept for the first issue, in which we would introduce our new visual language, was 'Persona.' In collaboration with the Esquire Turkey team, we identified four character actors (Melisa Sözen, Okan Bayülgen, Boran Kuzum, and Emre Karayel) that aligned with this concept and determined the corresponding colors and forms. And for the 'Persona' typography, we developed unique letterforms that vary for each character, further enhancing the concept.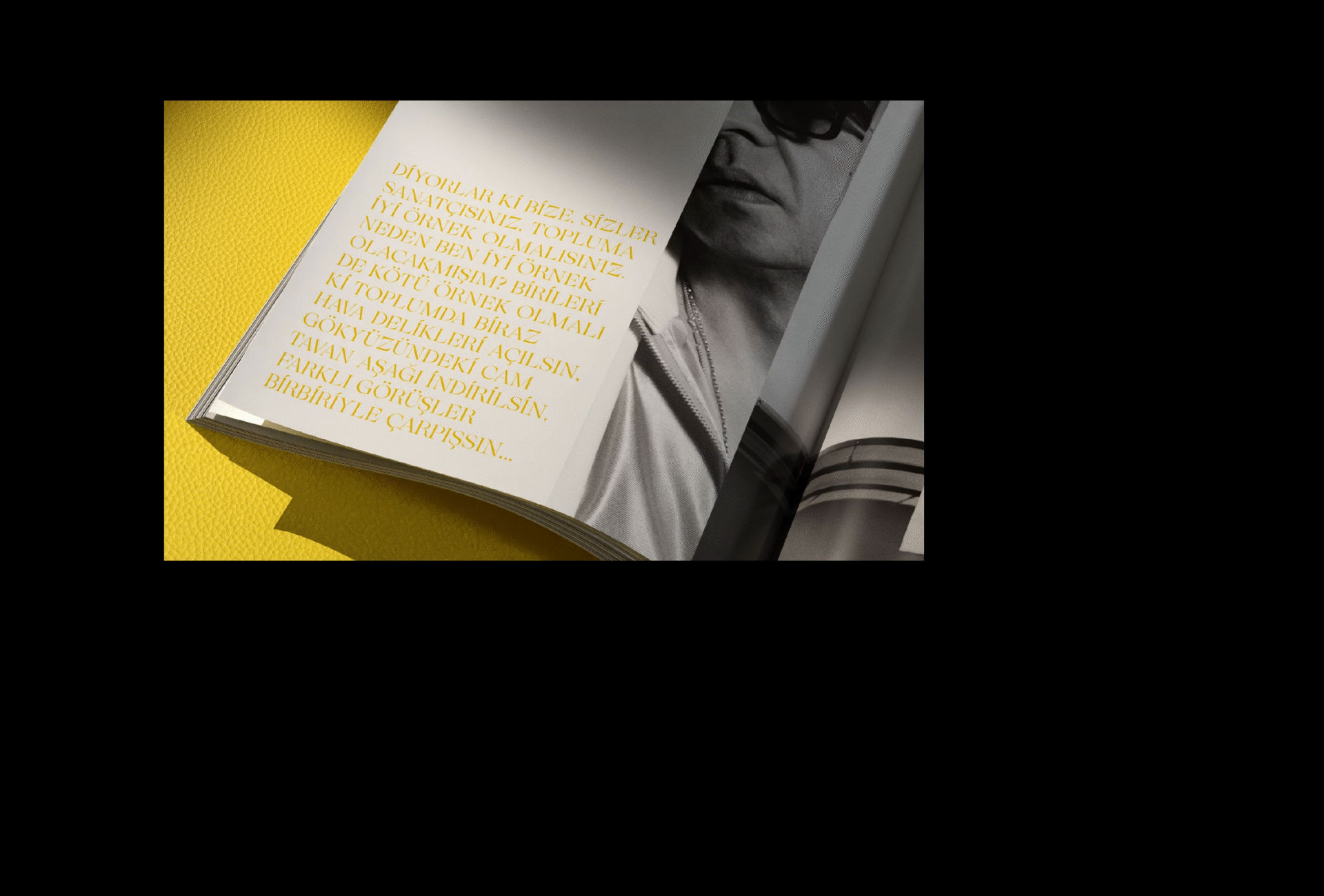 Project:

Ali Tufan Koç & Cheer Media - 
Photographers:

Koray Parlak (Boran Kuzum), Selçuk Danyıldız (Emre Karayel & Melisa Sözen), Ergin Turunç (Okan Bayülgen)
  - 

Photography Editor:

Müge Yorulmaz Güven - 

Photography Assistants:

Ada Diren Kurt, Burhan Canlı, Mücteba Cihan, İzgi Yılmaz, Ramazan Şentürk - 

Production:

Mertcan Yıldız, Kadir Yiğit Kılıç - 

Project Coordination:

Mertcan Yıldız, Şahin Çakıroğlu - 

Editor:

Özge Dinç - 

Digital Editor & Production Assistant:

Berfin Örs - 

Fashion Director:

Anıl Can - 

Costume Designer:

Dilara Begüm Kaymak - 

Fashion Design Assistants:

Alperen Öksüz - 

Hair Stylists:

Mustafa Akgül (Boran Kuzum), Doğukan Tuncer (Melisa Sözen), Doğukan Punar (Emre Karayel & Okan Bayülgen) - 

Make-up Artists:

Burcu Taş (Boran Kuzum), Doğukan Tuncer (Melisa Sözen), Sherry Naseri (Emre Karayel & Okan Bayülgen) - 

Hair Stylists Assistants:

Ataberk Gün, Enes Uçar - 

Video:

Pelin Kaçar - 

Video DOO:

Onur Fehmi - 

Video Asistanı:

İlayda Aşık - 

Video Backstage:

Yiğit Açıktuna - 

Lighting Designer:

Okan Ataş - 

Lighting Assistants:

Arif Bilbay, Mert Ateş, Arda Seyrek - 

Stage Coordination:

Sena Kaynakin - 

Transportation:

Muhammed Çakmak, Şinasi Keş, Ali Kaya, Asım Aydoğan, Beyhan Şahin, Cemal Soyupek, Hakan Aydın, İsmail Keskin, Mehmet İnce, Mehmet Uyar, Murat Demir, Murat Özalp, Osman Tayyip Çakmak, Resul Can Çatı, Rıza Aydemir, Tarkan Fidancı, Yüksel Karataş, Zinnur Özdemir - ​​​​​​​

Catering:

La Boom Emirgan, Cater, Nüzhet Özkök